5 Models Afloat
Add to my Myspace
from the Weekly Calendar:
5 Models Afloat: Art inspired by the L.A. River and A Conceptual Model-Building Charrette.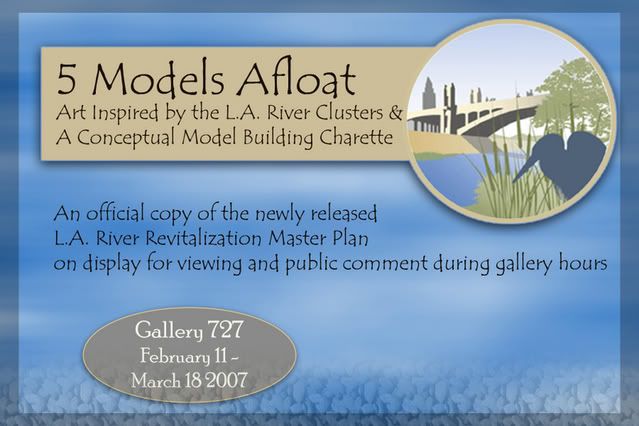 February 11 through March 18th 2007 at Gallery 727.

5 Models Afloat is a participatory installation that allows the public to envision their ideas for the L.A. River Revitalization Master Plan opportunity sites by constructing models of these sites. The river-visioning charrette will explore structure, access and multiple uses for the Los Angeles River clusters the city has identified, which will be transformed in the next few years. Attendees may stay as long as they wish during gallery hours and use building materials provided by the gallery. On Saturdays and Sundays urban planner James Rojas will provide in-depth technical training on model building.
5 Models Afloat includes artwork by more than a dozen artists who have used the five Los Angeles River Revitalization Master Plan Nodes as their inspiration. An official copy of the newly released draft of the L.A. River Revitalization Master Plan will be available for viewing and public comment during gallery hours.
For more information regarding the exhibit visit: http://www.gallery727losangeles.com/Riverpage.html

For more information regarding the L.A. River Revitalization Master Plan visit: http://www.lariverrmp.org/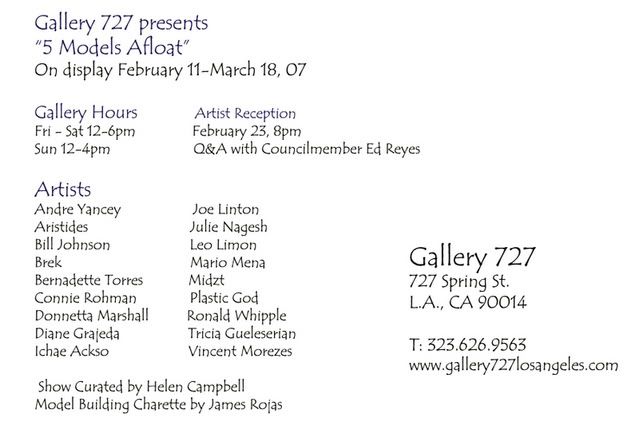 Location:Gallery 727
727 S. Spring Street